art statements & press
The 32nd Annual L.A. Weekly Theater Awards, Nominees Los Angeles:
SET DESIGN BIRGITTE MOOS The Arsonists at The Odyssey Theatre
Awards bash at The El Rey Theatre in the Miracle Mile, April 4th, 2011
Driven to Abstraction; My Bloody Black Valentine show        
GLORIA DELSON CONTEMPORARY ARTS, LA, March 2009 
and CAPORALE BLEICHER GALLERY, LA, January 2011
Link to VIDEO & ART STATEMENT

STAGE AND CINEMA. THEATER IN LOS ANGELES: THE BEST OF 2010 AWARD, January.1.2011
The Arsonists at The Odyssey Theatre

ARTS District Winterfest,  Dec. 10, 2010
warehouse 833 E. Third St., Los Angeles, CA 90013
The Los Angeles Downtown Arts District is a community of downtown Los Angeles. 
It was created in the 1970's when artists moved into the empty warehouse and manufacturing            
spaces in buildings up to 130 years old in the area between Little Tokyo and the L.A. River. 
The residents gained legal status when the LA City Council permitted artists to live in their work 
spaces as live/work space. In the 1990's, at the urging of Arts District activist Joel Bloom, the 
area was officially designated as the Arts District. It is home to hundreds of artists, musicians, 
artisans and dozens of arts-related enterprises, including the Southern California Institute of 
Architecture (Sci-Arc), Cornerstone Theater, ArtShare and a scattering of galleries, cafes and
restaurants.




BěRSEN NEWSPAPER ARTICLE: Dreams and Hard Work
November29, 2010


Transitstation Copenhagen 2010, May 17, 2010
Video

Winner of Rogue Monks T-Shirt Design Competiition
May 1, 2010



The Arsonists  at  The  Odyssey  Theatre
April - June 2010
Set and costume design by Birgitte Moos

PRESS           
Los Angeles Times - CRITICS PICK; Theater review: The Arsonists at  KOAN at the Odyssey April 15, 2010
"...Among the first-rate design elements, Birgitte Moos' striking set holds some real surprises."

L.A. Weekly Theater Critics. April 8, 2010
"...Set designer Birgitte Moos' beautiful two-level set (1950s-style living room and attic) is ingenious..."

STAGE AND CINEMA. FIREMEN, SAVE MY WORLD, April 11, 2010 
"... the look and feel of a grim East-European film of the 60s, with just the right touch of 
Keystone Kops madness..."

BEVERLY PRESS, April 8, 2010
"...super set design co-operation from Birgitte Moos..."

BACKSTAGE. CRITICS PICK: The Arsonists. KOAN at The Odyssey Theatre. 7.4.2010

Campus Circle, May 5, 2010
"The two level set design from the wallpaper to the hanging houses was beautifully developed by Danish 
set designer and fine artist Birgitte Moos. (I could not expect less from a student of Achim Freyer.)..."
          
A CurtainUp, Los Angeles Review: The Arsonists, 8 april, 2010
"Scenic designer Birgitte Moos has layered that second level attic atop a sterile white living room that 
looks like it might be a generic hotel room. Miniature houses representing the city float in space, and the 
firefighters scale metal towers to peek in the windows…"

LA THEATRE REVIEW, April 9, 2010
"The set, by Birgitte Moos... was marvelously evocative..."

BITTER LEMONS, April 2010 




EDGAR VARELA FINE ARTS. Exhibition March  21st - April 11th, 2009. BEDLAM MAGAZINE
March 20th, 2009


TIGGEROPERAEN / THE BEGGARS OPERA by Theatre Cantabile 2 at K2,Copenhagen.            
January 12 - 24, 2009
Set and costume design by Birgitte Moos

PRESS
January 17, 2009_-_Weekend Avisen/ The weekend Newspaper
"Conjures a dark image in a broad format."

January 17, 2009_-_Information
"Cheerful, it isn't. But smashingly beautiful and visually uncompromisingly."

January 24, 2009 - Arbejderen/The Worker
"... in addition Cantabile2 puts its weight behind the visual images in            
     the scenography. Colours, figures, large surprising installations...            
     the scenography is simple yet symbol laden. Just like Brecht the 
     few props have a large role in the piece."
January 13, 2009_-_Gregers Dirckinck-Holmfeld
"... or we are closer to a silent performance in this beautiful downplayed 
     presentation, where the pathos is on the verge of the Spaniard Garcia 
     Lorca."

January 13, 2009 - Frederiksborg Amts Avis/Frederiksborg County Newspaper
"... also oddly enough from the visual expression and the fantasticly rich 
     ideas that are behind, the performance is an unique experience."
January 18, 2009_-_Politiken
January 14, 2009_-_Berlingske Tidende
January 13, 2009_-_Morgenavisen Jyllands-Posten
THE PAINTING WHITE COWS & 5 storefront installations
Art Statement




M.J. Higgins Gallery - Los Angeles June 2006
Repulsive Repetition Series Art statement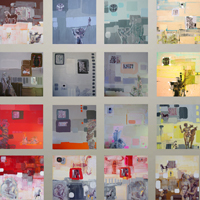 I Am Nation Social Network - Overvision's blog - Art @ Pershing Square     11/29/09
'Also displayed was the art of Birgitte Moos. Her work explores ancient Greek Mythology in a 
contemporary way.'




MIRROR WRITINGS
Art Statement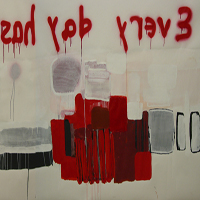 MEMORY  PALACE SERIES by Birgitte Moos
Art Statement


GALLERY WESTPHALL - Copenhagen. January, 2007
Press Release
The exhibition consists of 16 brand new paintings. Dark images inspired by the late 70's punk
epoch and the transition into the art movement of the Young Wild Ones' strangulated cry for help. 
The fatalistic cry of the no future generation towards a Pre-spirituality: Time is now! 
The conceptual approach in these paintings tends to become an abstract science. Where the 
images of memory transcend into a form, to evoke emotion. 
BISCUIT LOFTS EXHIBITION, April - May 2007

May 2007 - CITIZEN LA. The  Biscuit – an accidental art exhibition. Downtown LA, 
Text by Jonathan Jerald
"A large work by Danish-Angelino Birgitte Moos, whose abstract paintings of black and red 
modules, evoke dark and dramatic urban landscapes, dominates a loft room adjacent to the 
main display space". 

April 2007 - KTLA The Morning News Live
April 2007 - LAIST. Biscuit Lofts to House Lofty Resident(s)

May 2007 - INTERVIEW. LA MAGAZINE
Dec 4, 2007 - REUTERS.  Lacy Studio Lofts, New Urban Residences for Creative Angelenos,
to Open in December                                          LINK TO ARTICLE



December  1999 - POLITIKEN - The Original Idea.
'Lack of Oxygene',  Winner of The Scandinavian CLOSE-UP Shorts Competition
        
SET & COSTUME DESIGN for The Hamletmachine. Play written by Heiner Muller
Thesis project at Denmarks Designschool                LINK TO PROJECT DESCRIPTION